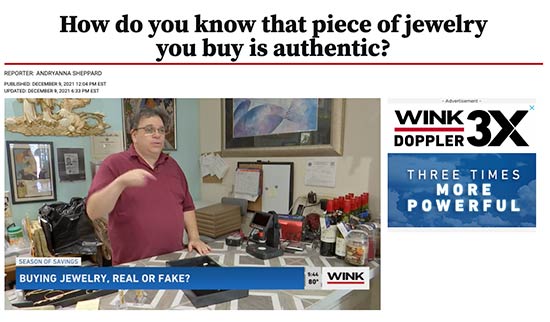 Jewelry sales jump during the holiday season, but are you getting what you're paying for? We look at how can we tell if a piece of jewelry is authentic?
Whether you're shopping for the bling or going for the gold, you might need more than just your eyes to figure out if it's the real thing.
Judy's Jewelry Antiques and Estate Jewelry owner, Sal Lanzieri, says that if you can't tell the difference between real and fake, that's OK because most people can't.
"You can't tell the difference, not unless you're a trained jeweler or you have the machinery for it," Lanzieri explained.
The best way to make sure you're buying the real deal is to buy from a place you know and trust.
He said, "You have to go to your reputable jewelers and ask them if they have paperwork. Sometimes they do, sometimes they don't. They can get you an appraisal if you want one."
Lanzieri has the machinery to tell you the difference between natural and lab-grown diamonds and the karat of gold you're considering.